Imalent MS03: The brightest EDC flashlight
The Imalent MS03 is an excellent EDC flashlight that combines power, portability, and durability.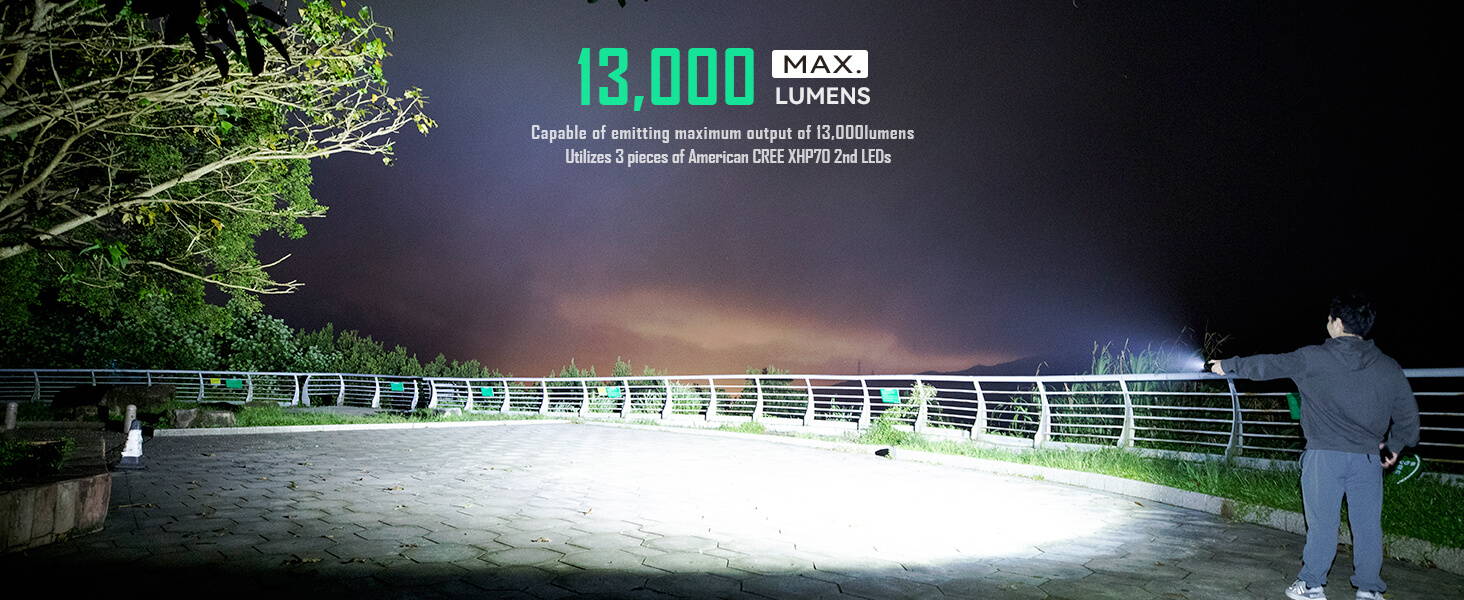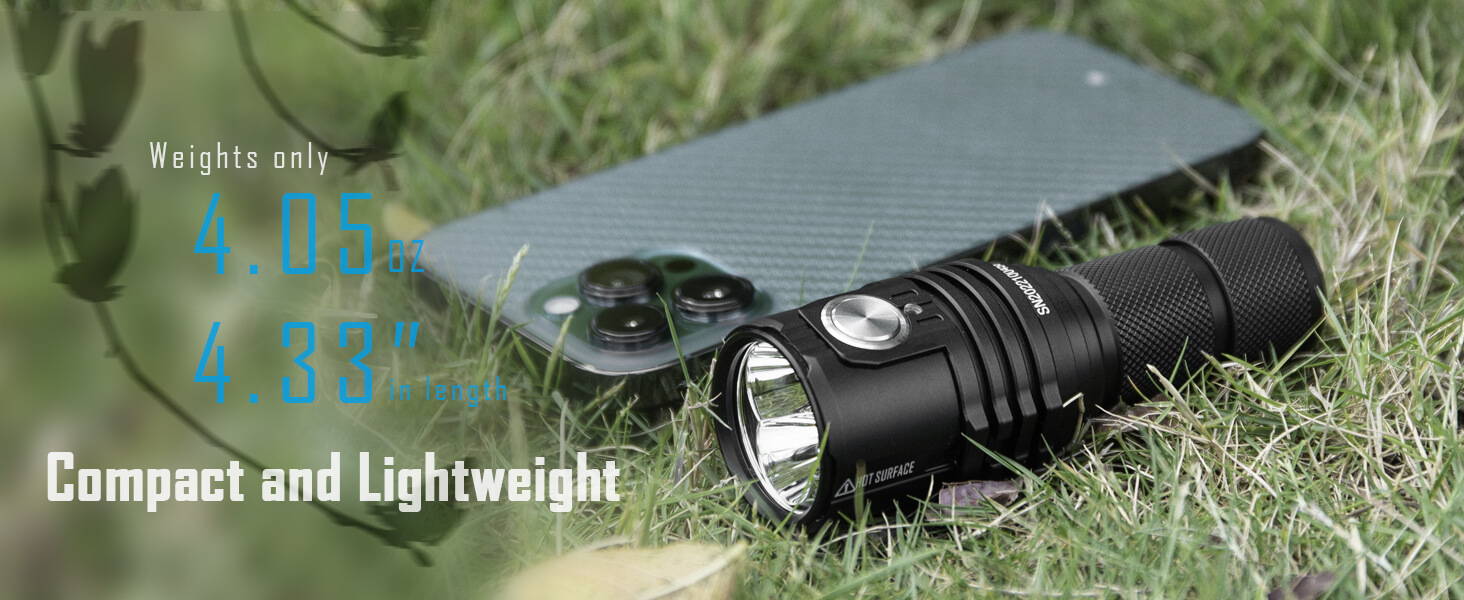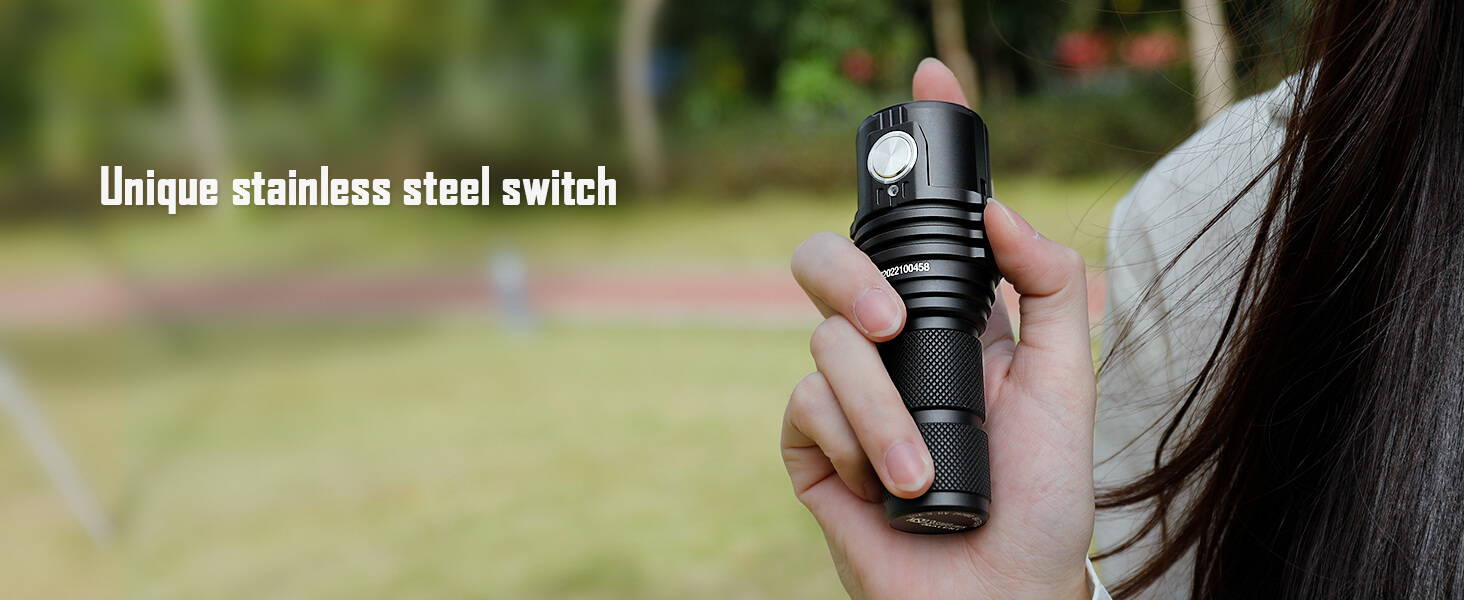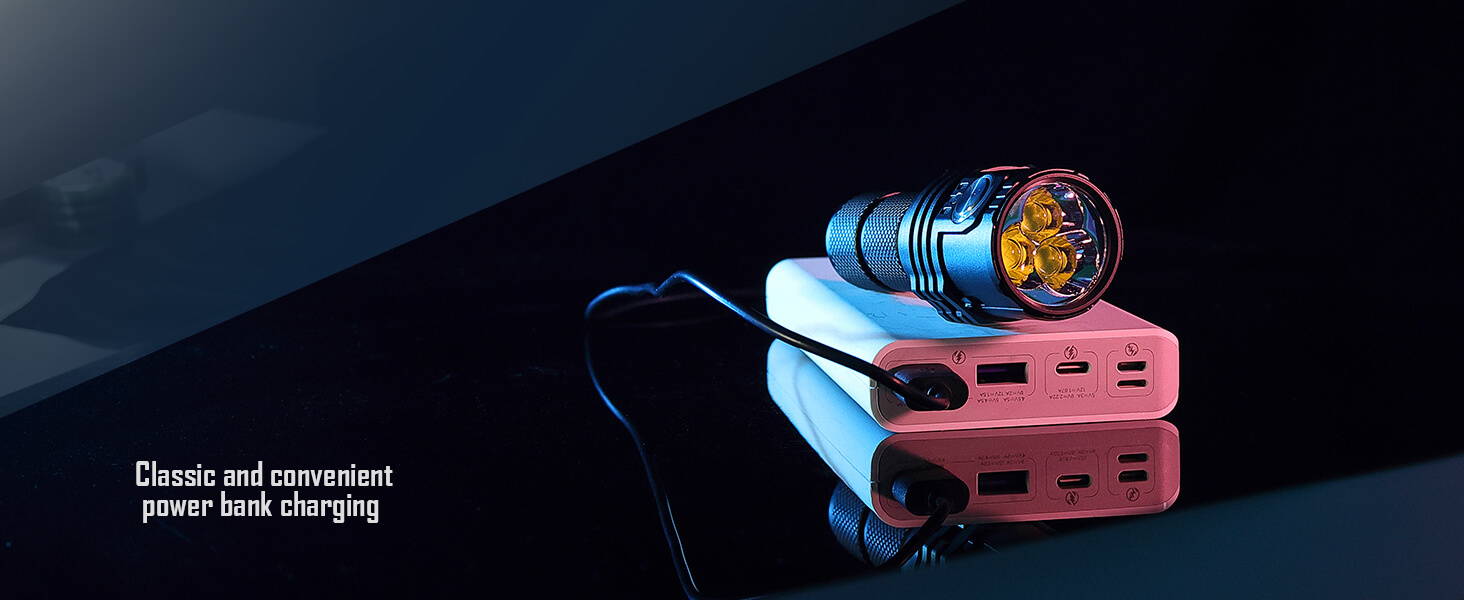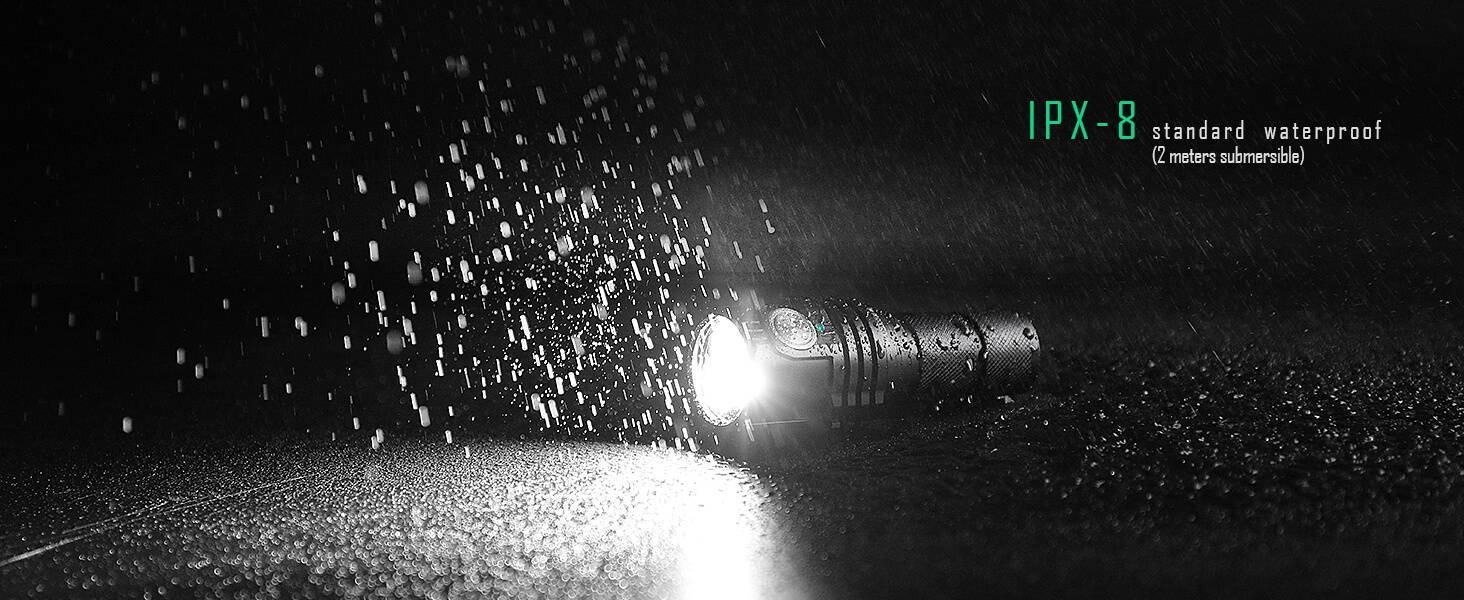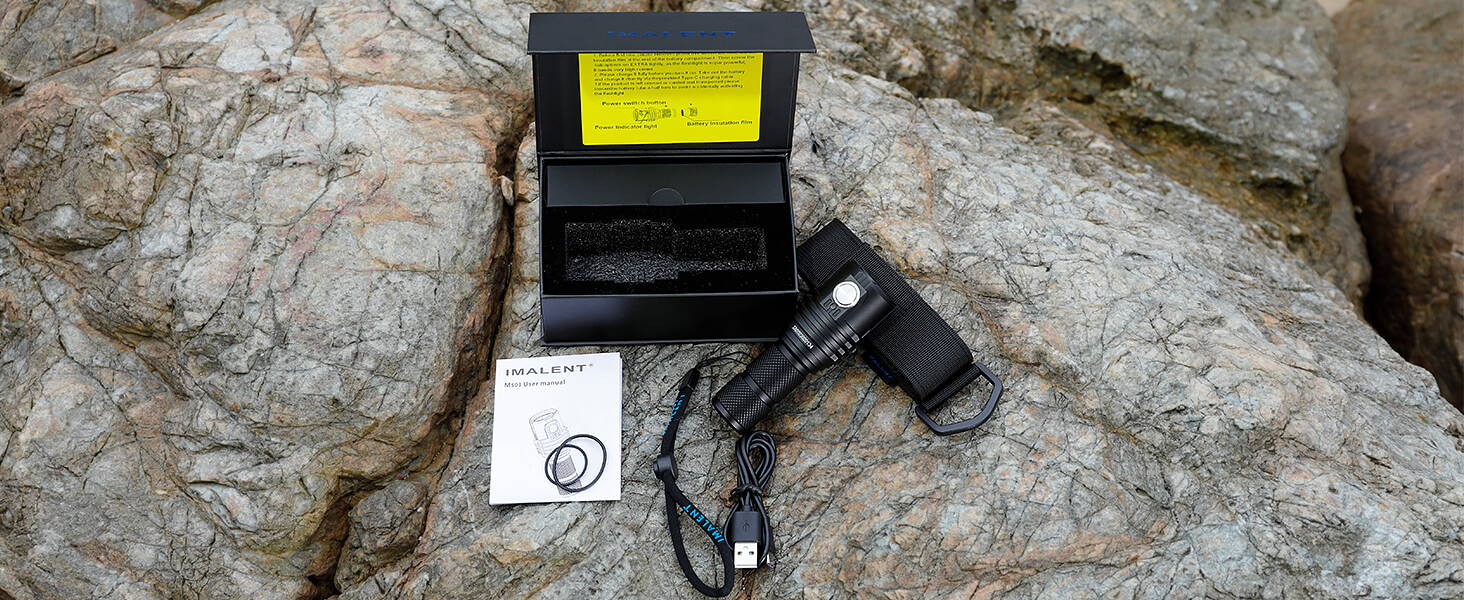 With a maximum output of 13,000 lumens, MS03 can quickly light up two basketball courts. The portable flashlight easily outperforms many of the larger, bulkier models. The MS03 features three high-performance Cree XHP70 LEDs that deliver a beam distance of 324 meters. Whether you're exploring dark roads, conducting search and rescue operations, or working in low-light environments, the brightness of the MS03 ensures excellent visibility and increased safety.
Additionally, the flashlight offers multiple output modes. From Ultra Low Mode to Turbo Mode, which unleashes the full power of the LEDs, the MS03 provides the versatility to adapt to any situation.
The length of MS03 is 11cm, and the weight is about 187g (battery included), which tactical edc flashlight can be easily put into a pocket, backpack, or glove box.
The mini size of the camping flashlight does not affect its durability. The MS03 is made of high-quality aerospace-grade materials that are strong and impact-resistant. It has an IPX8 waterproof rating. The MS03 is a reliable option in harsh weather conditions and challenging outdoor environments, thanks to its high-quality materials.
Long-lasting battery performance:
The Imalent MS03 features a powerful rechargeable Li-ion battery with a capacity of 21700mAh. This large amount of storage allows the rechargeable flashlight to provide longer run times.
Excellent user experience:
The Imalent MS03 has been designed with user convenience and functionality in mind. The switch provides easy mode selection and operation, allowing you to cycle through various output levels smoothly. The flashlight runs on a rechargeable battery, and users can purchase another battery as a spare.
The MS03 has a convenient lanyard for multiple carrying options, ensuring easy access during outdoor activities.
It also includes a locking feature to prevent accidental activation, extend battery life and avoid unnecessary lighting.
Here are some of the specific purposes of the IMALENT MS03:
Search and rescue; Hiking and camping; Self-defense; Signaling;
The Imalent MS03 is an excellent tactical EDC gear with exceptional brightness, portability, and durability. Whether you're an avid outdoorsman, a first responder, or someone who values a reliable lighting tool or looking for the best EDC gift, the MS03 is a compelling choice.
A 4000mAh Li-ion Type-C USB rechargeable battery powers it.

Product size: head diameter 36mm, body diameter 27mm, length 110mm.

Net weight: 187g. Batteries included.

High-efficiency constant power circuits will maintain constant brightness.

The built-in controller automatically adjusts the brightness output according to the working status and outside temperature.

IPX-8 standard waterproof .

Aerospace-grade aluminum alloy body, wear-resistant Type III hard anodized surface treatment.

1.5 meters impact resistance.
Flashlight product packaging
Imalent MS03 Flashlight x 1

Li-ion 4000 mAh battery 21700 type x 1
flashlight Specifications
Brand
IMALENT
Product Code
MS03
LED Type

3 pieces of American CREE XHP70 2nd LEDs

Batteries Required

1x rechargeable 4000mAh 21700 Li-ion battery

Luminous Flux

Up To 13000 Lumens

Run Time

Up To 27h

Intensity

26320cd (Max.)

Distance

324m

(Max.)
Operating Modes

Turbo / High / Middle II / Middle I / Middle Low / Low /

Output and Runtime

. Turbo output : 13,000~2000 Lumens;Run-time : 45s+70min

High output : 8,000~2,000 Lumens;Run-time : 1min+72min

Middle II output : 3,000 Lumens;Run-time : 1h15min

Middle I output : 1,300 Lumens;Run-time : 2h

Middle low output : 800 Lumens;Run-time : 3h40min

Low output : 150 Lumens;Run-time : 27h

Measurements

36(head diameter)*27(body diameter)*110(length)mm

Weight

187g (battery included)

Impact Resistance
1.5m
Waterproof
IPX-8 standard waterproof(

2 meters submersible)

Accessories


Holster, USB Charging Cable, Lanyard, 4000mAh 21700 Li-ion Battery, O-rings
MS03 flashlight GENERAL MODE

The only difference between IMALENT MS03 and IMALENT MS03W is the color of the light.
distance and lumens remain unchanged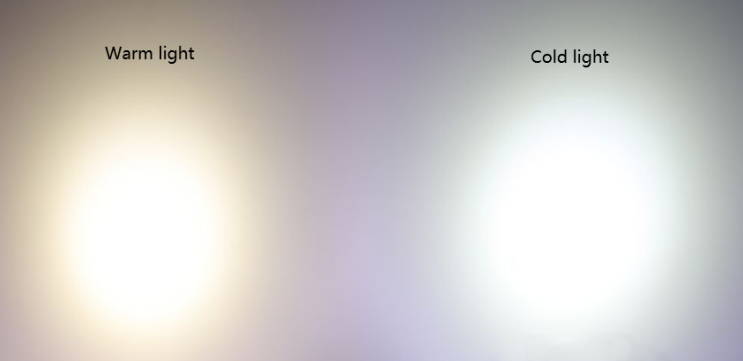 When using the IMALENT ms03 flashlight for the first time, please remove the rechargeable battery protection round insulating sheet between the tail cap of the flashlight and the large-capacity battery, then tighten it as much as possible and lightly press the power switch to turn on or off the MS03 flashlight.
To turn it on, flick the switch, and when the desired brightness level is reached, release the power switch.
Suppose the rechargeable flashlight does not have an insulating sheet. After fully charging the battery, the user needs to tighten the flashlight's tail cap so that the positive pole of the battery faces the head of the flashlight and then quickly press four times to unlock the flashlight. The flashlight will usually be on.
13000 Lumens Turbo Mode and Strobe
Users can activate the 13,000-lumen Turbo Mode output by double-tapping the power switch button in any mode; double-tapping Turbo Mode will enter Strobe Mode and exit both ways with the flick of a switch. (Turbo and Strobe will not be available when the battery is low)
How long will delivery take?
All orders are shipped via standard shipping service. Usually, the preparation and shipping of your order take 1 to 2 working days, while delivery timing by the courier may change depending on the destination. If you order them from EU/US/JP warehosue the delivery time will be within 5 working days. If your order is sent from the CN warehouse, the delivery time will be within 5-15 working days.
Note: if your location are not USA, Canda, UK, Japan, And Europe, Please choose CN warehouse before placing your order.
What are the shipping options?
When you make a purchase, you can choose regular shipping or premium shipping during checkout.
The shipping method will include: USPS,UPS,Fedex,China post and DHL.
How can I cancel my order?
The cancellation button is available in the order on your My Account Page. You have the option to cancel the entire invoice, or you can cancel select items. Or you can contact us for help.
Orders can be returned for any reason within 30 days from the date the order was received. Returned items must be in the same condition, unworn and in the original packaging. Free or promotional items must be returned along with the original item when being fully refunded. Once your return is received, a refund will be processed, and a credit will automatically be applied to your original payment method. Please note that it might take 2-5 working days for a refund to show up on any bank statements. For your replacement, we will re-send a new item to you as soon as possible (within two weeks.) For items purchased from third-party platforms within 30 days, we recommend you contact the original seller first, so they may take care of you. If you have any issues with them, please contact us. Within 2 years of purchase: please contact our customer service at tiantianjiang604@gmail.com to apply for the warranty work. We may need your serial number, the date of purchase and a simple description about your issue.
Yes, we have a money back guarantee for all of our products. if you don't like the flashlight, You need to return the flashlight to our warehouse and bare the shipping cost, after we confirm the flashlight is perfect for use, we will refund you the money. If your flashlight has any problem, please also send back to our warehosue, we will check it and send you a new one. we will bare the shipping fee of sending back to you.
| | |
| --- | --- |
| United Arab Emirates | 477 AED |
| Bahrain | 49.01 BHD |
| Saudi Arabia | 488.16 SAR |
| Kuwait | 39.84 KD |
| Egypt | 4015.3 EGP |
| Iraq | 188847.8 IQD |
| Jordan | 92.25 JOD |
| Djibouti | 23037.5 DJF |
| Lebanon | 1942223.6 LBP |
| Libya | 624 LYD |
| Mauritania | 4483 MRU |
| morocco | 1340 MAD |
| Oman | 50.03 OMR |
| Palestine | 477.69 ILS |
| Qatar | 473 QAR |
| Comoros | 60003 KMF |
| Somalia | 74006.5 SOS |
| Sudan | 77125 SDG |
| Tunisia | 406.61 TND |
| Algeria | 17698.6 DZD |
| Yemen | 32526 YER |
| Syria | 326499 SYP |